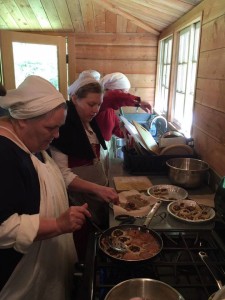 The 2016 West Coast Culinary Symposium was held at Camp Namanu in Sandy, OR. Imagine fantastically lush greenery, rustic cabins, and about 200 history nerds – from Canada to Southern California – coming together to celebrate food through the ages. The weekend started with a cookbook expedition to Powell's, and ended with round table discussions. In between, there were a wide variety of both lecture and hands-on cooking classes.
The 30 topics covered included cheese making, medieval spices, making a cobb oven, period grains and flours, gardening, fermentation, brewing, sausage making, food safety, and more. There was Roman, Byzantine, Ottoman, German, Scandinavian, Portuguese, and English cooking.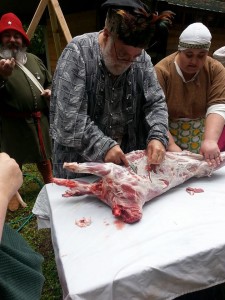 Organizational classes examined running feasts and events. A young ewe and two roosters were slaughtered on site. The butchering and use of nearly every part of these animals was an exciting opportunity for the participating students. The lamb turned into a fleece, cured bacon, and haggis, among other things. It also joined some of the rooster meat in a pie with foraged greens, nestled into a coffin (crust) made in a Saturday class.
In between classes, we all ran around from kitchen to kitchen, trying each other's delicious recipes and sharing our favorite new secrets. In the evenings, there was the usual laughter and storytelling with old and new friends.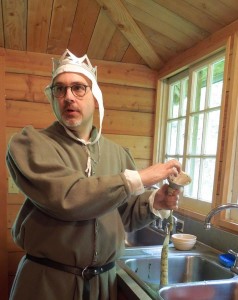 Next year, WCCS will be in California. Come join us! Website: http://www.westcoastculinarysymposium.org/ Blog, with class handouts to be posted in the near future: http://westcoastculinarysymposium.blogspot.com/
Also see: https://medievalyork.com/2016/04/24/the-pie-of-destiny/