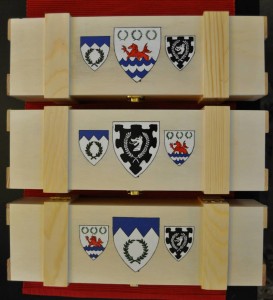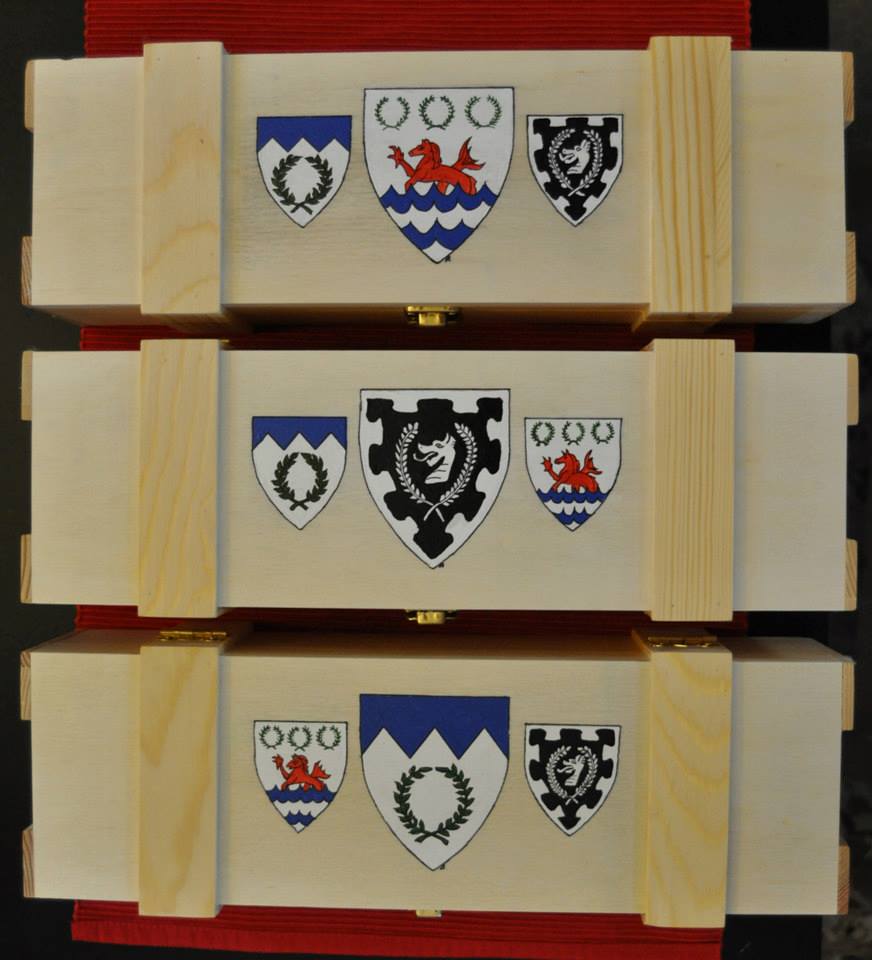 In the year of the Society 48, in an effort to foster closer ties between the rivers area Baronies, the Tri-Baronial Treaty was created. The men and women who bore the Coronets of Three Mountains, Stromgard , and Dragon's Mist (respectively; Multnomah & Clackamas counties in Oregon, Clark & Skamania counties in Washington State and Washington & Clatsop counties in Oregon), chose to openly and for all time solidify the friendship and community that had grown under Their feet. Cheerfully, the people of the three Baronies, as well as many from local Shires were paricipating together, in friendship and joy. The treaty was signed in August, Anno Societatis 48, (2013) at "Sport of Kings", an event held by the Barony of Three Mountains. It is considered a defining moment for the SCA in Our area, encouraging the different groups to come together to foster further growth, share knowledge and resources in order to build stronger ties of support and history into the future.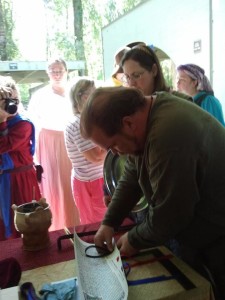 Additionally, it's goals are:
to provide automatic permission to use lands in the other Baronies' boundaries without the need for a fee.

to have all three Baronies work together to align Our calendars and minimize overlap which tends to cause burnout of local resources and volunteers.

to Banish the Clan of Some from Our holdings in perpetuity and refuse to allow them purchase on Our collective soil.

and to work together to make Our Society more robust and more enjoyable for the populace and it's representatives.
---
Introduction
(written by Sir Ataias, former Baron of Three Mountains, Baron of The Court.  Read during the presentation of the treaty before signing)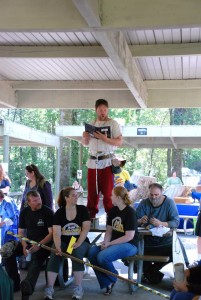 So!…..
Of old there was the West Kingdom of which many songs have been sung and in the days of its first flowering its glory echoed far into the world, calling to many hearts.
In the Northern marches of that realm a great river flowed West to the sea and its course brought it to a fertile land under the gaze of three mountains, mantled in white. By the wood-woses out of ancient days they were called Wy'east, Si Yett, and Pahto, but in the tongue of the West Kingdom they were named Hoode, Helens, and Adams. And in sight of them at the great river's Southern shores lived a people who, like their kin to the South, looked back upon the elder days of their ancestors with a longing that could not be abated for their hearts had been kindled with a flame imperishable. It made them hunger for lore, wisdom, and beauty long forgotten, and to regain the skill and prowess in valiant deeds of arms that recalled those of their ancestors. And from among the lords and ladies under the gaze of Hoode, Helens, and Adams arose Sir Frederick of the West Tower and Anne of the White Tower.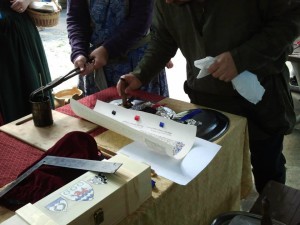 King Paul of Bellatrix it was who with the shining Queen Carol of Bellatrix set upon Frederick and Anne's brows the pearled coronets and created them Baron and Baroness of the Barony of Three Mountains – and uniting it with the Barony of Madrone they created the Principality of An Tir.
And out of those young days we still hear the names of those who achieved great deeds and works of great renowne – Jaime Oakenshield, Steingrimm Stellari, Morag Campbell, Ulfred Drommefjell, Manfred Kriegstreiber, and Janeltis Karane Starfollower – these nobles and more provided the foundations of what would become the Kingdom of An Tir and from them sprang the bloodline of its first kings and queens.
Long did the people abiding there prosper, growing in knowledge and craft.  Masters and Mistresses of lore delved ever deeper into ancient wisdom and as they increased their skills of mind and hand they wrought great treasures of cunning, subtlety, and beauty. Shining helms and bright blades they made, and crowns set with precious gems. Elegant clothing they sewed and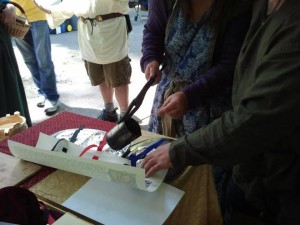 banners they flew bearing the sable lion of An Tir – all made with steady hands.  And minstrels there were who delighted the ears and hearts of the populace, singing many songs and telling many tales, and the voice of Moya Ni Tabor was still heard as she walked amid the trees along the river's Southern shores.
But on the great river's Northern shores and in sight of fiery Si Yett another people dwelt, undaunted by the rumour of that mountain's wrath nor of what dragon might abide upon it.
Audun the Red and Gwendolyn of Caer Caerddinan led them and they were befriended by the Dowager Princess Janeltis, Christopher of Houghton, and Edward Zifran of Gendy.  The people there gathered and reveled in their fellowship and they aspired to and achieved great works of arts, generous feasts of hospitality, and deeds of martial prowess and fame.  Strong hands wrought subtle and cunning works of iron and steels like waters running. Hoofbeats thundered in the hills and bows sung their darts true to their marks.  King Sven and Queen Signy sitting in glory upon the Sable Lion thrones saw and knew the worth of these nobles and uplifted them—the Barony of Stromgard—setting pearled coronets upon the heads of Tiernan Dal Cais and Miranda Fiaoltiarna.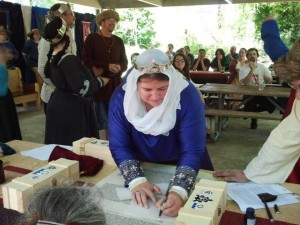 And in the shadow of Helens these people continue to prosper—a bulwark of guard against the dragon of the mountain and any storm of its fire.
But ere the fire of Helens awoke Sumingo of Amranth walked in the fertile lands West toward the sea.  She lived among a gentle folk there who she gathered together in grace and beauty. And each looked to the other and saw that they were shared in vision and desire—in accord as many voices joined in song. And in that music was the love of creation and of memory.  Artisans there revealed the beauty in earth, fire, and forest. Glass shimmered in their hands. Wood they carved and adorned. Clays they moulded and fired. And laughter and joy they brought forth from many hearts, even those thought to be of stone for in bardic arts they held such a mastery.  And their memory was deep yet living for their loremasters were wise and well-learned, and they were ever eager to share their knowledge.  King Thorin and Queen Dagmaer heard Dragon's Mist's song while upon their Sable Lion thrones and in happy hour set Refnr Ordlakarr Fiachsson and Svava In Litla in their high seats.
---
The Treaty
Aedan and Alexandria, by the grace of the King of An Tir, Baron and Baroness of Three Mountains, Ivon and Hlutwige, by the grace of the King of An Tir, Baron and Baroness of Stromgard, Refr and Svava, by the grace of the King of An Tir, Baron and Baroness of Dragons Mist to Our justices, sheriffs, and all bailiffs and officers throughout the whole of Three Mountains, Stromgard and Dragons Mist as well as Our populace both joint and several and all to whom these presents shall come present and future greetings health and sincere affection.
Predecessors of sharper memory more experienced in literary work commended monuments of things accomplished to the notice of their successors inspiring by this example lest they slothfully neglect something worthy of memory to future times. We, thinking to Our and Our successors' benefit, since while we know the beginning we do not know what the end may be, lest acts well and piously done be confounded by oblivion through time, let us take care to recall them in memory with virile writings. Let all know that we have gathered together with Our cousins and neighbors from the Baronies of Three Mountains, Stromgard and Dragons Mist to codify and preserve for posterity this Our agreement between Ourselves that we think it necessary to hereby subscribe.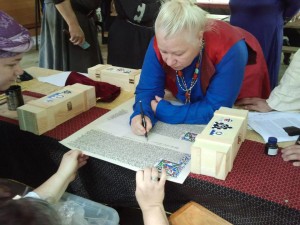 Among specific things that gladden us with welcome delight, Our heart rejuvenates in great joy and exults in longed for happiness, when we see that those persons, whom providence has endowed towards the purpose of guiding Baronies and kingdoms, are intent upon the common progress of their subjects, and when we admire their concern for the welfare of public interests acknowledge that we of the Baronies of Three Mountains, Stromgard and Dragons Mist cohabitate closely with one another and are united by resources, friendship, and a desire to make common cause. And we will endeavor to foster these mutual accords in the coming years and that to every citizen of these three Baronies we shall show peace, and we shall protect and defend them with good will just as we do my other persons. And that justice shall be done to all of Our citizens by Our bailiffs, we grant liberty to Our bailiffs and such others as Our bailiffs have appointed. Let it be known to you that We have granted and conceded on the advice of Our councils, and with the counsel of Our Barons to the citizens of Our Baronies free entry and exit into and out of the town, in the plain, woods, marshes, roads, paths, and other thoroughfares, except in the meadows and cornfields as freely as ever any one can. And know also that they are free and quit of all unjust and uncustomary tax. Let it not be hidden that our king, has granted to us the power to do these things, and that his charter has confirmed Our statutes and Our laws according to the form of the laws of Our Baronies so that he might promote and exalt the honor of his mighty prowess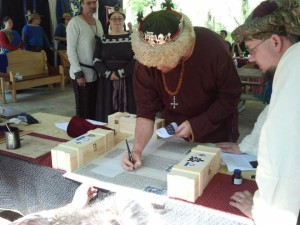 with all these free customs.
We Barons and Baronesses have given Our Permission to use each other's lands trusting that Our cousins will hold the land in good trust and that we will inform the land owners promptly. And that they may be exempt from toll, passage, and customs throughout all of Our land. Furthermore, that no-one should harass them for customs We shall not bring it about by deed, word, consent or counsel, that they lose life or members or be taken captive, We will impede their being harmed if We know of it, and will cause harm to be removed from them if We shall be able. We will aid to the best of Our ability in holding and defending Our baronies whoever may rule them against all men.
We further agree to collaborate with Our cousins and their councils in order to align Our calendars together to ensure that confliction of dates for Our feasts and tournaments, revels and schools shall not occur thusly ensuring that local laborers, craftspeople and tradespeople and that lists, halls, and fields remain available and viable for each of us and our heirs and our present and future citizens.
Furthermore do we all signatories of this present charter of treaty, recognizing the wise and just enactment of the following,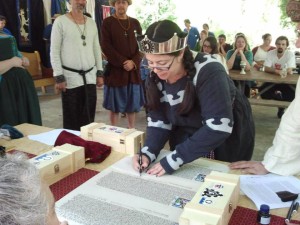 confirm and issue this banishment, done with wisdom toward the establishment of peace within their lands by the learned forefathers of the Barony of Three Mountains, Baron Roger and Baroness Morag, and Confirmed and reissued by all Barons and Baronesses since in the Barony of Three Mountains .
We do hereby banish the clan of some from Our lands and presence in perpetuity. We command all of Our citizens, as they love us, to offer no aid, nor comfort to any of the Clan of Some. We would deny the aforesaid Clan of Some safe harbor or safe haven, and we charge Our citizens to provide none of these for this reprehensible clan. If any statement is made by this aforesaid Clan of Some respecting any matters let none believe it. And let the Clan of Some know that we do not care any for the safety or affection of this aforesaid clan, but we defy you, as enemies of us and Our citizens. We deny the Clan of Some any freedoms and any peace whilst they are in Our lands, and we trust that our ministers and citizens shall likewise prohibit the inhabitation of Our lands by any of the Clan of Some. Let all that have heard these words spread them far and wide, so that none of this aforesaid clan shall attempt to make their residence in Our lands. So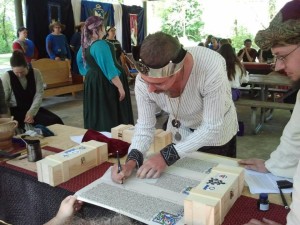 let it be known that Some people are banished.
No one, therefore, is permitted to infringe upon this charter of Our protection, will, regulation and confirmation, or to go against it with reckless audacity. And if anyone should dare to attempt this he shall find himself incurring the anger of Our Baronies and Their Royal Leonine Majesties of An Tir. And We wish that if any one break this charter that they be proclaimed anathema. Lest any of Our successors diminish this gift and concession, or constrain them to pay greater taxes, alleging that they have usurped these privileges, and have no warrant for them, We have left this charter as a suitable testimony of the said treaty. We will observe all the conditions to which We have agreed and spoken by my mouth and will keep them inviolate for all time. And that this may never be forgotten, We have set here our hands, and have made it be confirmed with our seals as may be seen below. Given at the joint court of Three Mountains, Stromgard and Dragon's Mist on the 17th day of August in the forty eighth year of the Society.
---
Credits
Scroll written by Randal Fitz Alan the Redowtable

Calligraphy by Leah bat Yehiel

Artwork by Ana de la Sara

Scroll boxes made and painted by Aedan McSuibne

Master Nikolai Grendal Gornych cut the treaty into the three pieces to be held by each Barony with a knife made by his own hand.