Greetings to everyone,
So many people have been messaging me starting last night about what happened this weekend at Sport of Kings and really, I had dinner and passed out. What can I say? It's been an exciting 4 days that honestly has worn me out.
First Erika and I want to thank the ENTIRE team of people that make Sport of Kings the epic event that it has become and continues to be. From Jarl Ulfred's (Alfred Bennard) vision springs forth a multitude of inspirational and gracious people who work tirelessly to make it happen. I am going to thank as many as I can and if I miss you, please know that it is only because I am still processing it all. First and foremost Vivien NicUldoon our event steward who tirelessly worked to get so many personality and work types to come together to the same plan and page. With all of the stones mucking up the gears (and I am sure there were more than you even reported to us), you held up with grace and courage to keep pushing forward. As we all know, a team cannot consistently accomplish great things without a great leader. You are that great leader. And we cannot forget Decimus (Felix Avor) who seemed to pop-up everywhere to be the glue to help where you could not always be. Thanks to (warning: machine gun shout-outs) Sir Kjarten (Matthew Widolf), Shaya Kjartanskona, Sir Justin (Van Carter), Duchessa Hlutwige (Lois Hale) and the entire Virgin Countess Crew who fed everybody, Gulenay (Barbara L MacLachlan), Sir Ishtvan (Daniel Antal), Anjelika (Anne Soeder), HE Ana De la Sara, Airmid (Rainbow Colder), Sir Mattheus Bane (Matthew Sugarbaker) for bringing and setting up the Cathedral, the Basilica, and for other gifts that you provided to the event. There were so many more that I can't even think of right now because it is all swimming in my head, but, thank you for all of your hard work.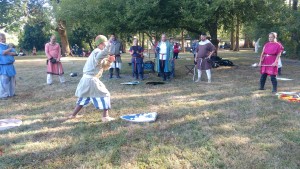 Instructors (and those who came to support them) WHO TRAVELLED FROM ALL OVER THE KNOWNE WORLD… thank you, thank you, thank you is not enough. Along with our staff, you are the lifes blood of this event both combat and non-combat. The knowledge and prowess that you have committed to share is so valuable in the continuation of our Society. Passing this information on helps everyone make the Dream present and gives it life. This allows those who take on the knowledge you shared to pass it on throughout the Knowne World. From the bottom of our hearts, thank you.
As far as my classes are concerned, I had the privilige of being instructed by people I admire, heros of An Tir and of the Society to which I am most grateful for the opportunity. Sir Lachlan's foot work class (I will never forget his 'Hero pose, Prom Queen pose'), Sir Donnan's (Jeff Brown) Fighting in Three Dimensions, Duke Thorin Njallson's (James Paxton) Power Generation from Technique class; all of these classes will stand out for me and I hope I can digest what I need to become better in my craft.
To those who camped with us in Three Mountains encampment, thank you so much for being part of the family. Aelfwyn and Matthias, Champion Thomas O'Malley and Sarah MacGregor, Baroness Kateline and William Terrel, Baron Titus and Sherilyn, Abd-al Erin (Scott Fink) of House Daos, Regulus and Li, and anyone else I may have forgotten. Old friends and new camping together make these events so much more personal and brings the experience close to the heart. We appreciate you helping to make the experience special for us.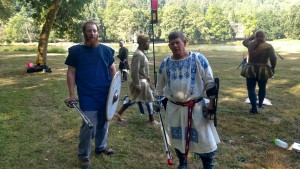 To their Majesties An Tir, King Christian and Queen Helene (Emerson Waite and Heather Holmes): having the Royal Presence at Sport of Kings and Three Mountains events is always a pleasure and brings the view of the Dream a little closer. However, Erika and I both have commented how fun it was to get to spend time with you both. Getting to know you personally has been a joy. I have been told that "Dancing Baron" is a thing now thanks to your Royal request in court. We look forward to your return to our fair lands for Kingdom Heralds and Scribes Symposium on September 9th. Who knows, maybe we can dance the Noodle!
Long live King Christian and Queen Helene! Long Live An Tir!
Thanks to the visting Royalty from all over the Knowne World. We are constantly impressed by those who make pilgrimage to Three Mountains for Sport of Kings, especially so soon after Pennsic. Your attendance helps to bring folks to the event, and your presence on the field helps to inspire those to step up their game. Special thanks to Prince Soren of Oertha, of West Kingdom. It was indeed a pleasure to get to know you and an experience to cross swords with you. One good elbow deserves another! And Erika says if it weren't for protocol we shouldn't sit together in Court again. We'll just end up being "those kids in class" one more time. So much fun hanging out with you. Erika and I think a flight to Anchorage may be in the cards for a weekend fight practice and pub crawl.
Long live the Dream!
And now for the moment many of you have been waiting for: what exactly did happen in their Majesties' Court?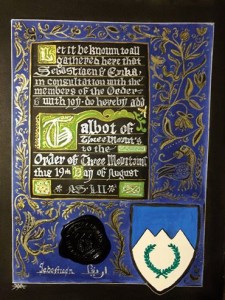 First during a roving court on Saturday, Erika and I called a hold to the rapier tournament on the eric and called forth one deserving of great wordfame for his service to the rapier community in our Barony. Talbot of Three Mountains (David Crouse) was inducted into the Order of Three Mountains. His service is well known in and out of our Barony. The order's members requested his addition to the rolls, and Erika and I agreed. Congratulations, Talbot!
A little later, the Three Mountains Baronial roving court descended on the Virgin Countess Inn where we found Decimus (Felix Avor) cooking over a fire to feed the hordes of fighters and their supporters. Among the other forms of service that Decimus performs freely and with joy to bring the Dream to others, he was the event steward for last year's Three Mountains Honor Feast which honored his Knight, Sir Ataias. We wished to thank him for his hard work, and gave him a Golden Torc. After some laughs, a hug from Decimus which involved being swept off my feet a'la a World War II photo, we moved on with the rest of our day.
Evening Court came within the iconic Cathderal and Basilica made by Sir Mattheus Bane. His craft seems to knows no bounds when it comes to enhancing the ambiance of SCA events. With the torches lit at twilight, magic happened without a soul even stepping to the dais. When their Majesties approached and the herald gave their invoking cry, an explosion of sights and sounds brought forth a time a place from the past: the Dream we all share became reality in front of our very eyes! Their Majesties offered awards to some of Three Mountains citizens who were not present. With inspiration from the heralds words for the first recipient, His Majesty said that to receive the award in their stead I should dance. WHAT COULD I DO? So despite my two left feet, I danced a short jig, apparently to their Majesties satisfaction since I was allowed to accept for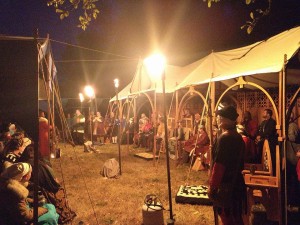 three of our citizens. Soon after more business was completed by the Crown, their Majesties graciously asked us if we had any business to attend to.
Baroness Kateline invoked our Court and announced that we had received business from the Crown from previous events who were intended for those now in our presence. Their Majesties asked us to call them forward into our Court. First was Abd-al Erin of House Daos. When he found his place in front of us, their Majesties surrounded us and all five of us joined hands to extend an Award of Arms to Erin. As their Majesties returned to the Throne, we called forth one more person, Aisling O'Ciardha. There Majesties again surrounded the us, and again we all joined hands as Kateline announced Aisling was being given an Award of Arms. As their Majesties once again returned to their thrones, Kateline asked those members of the Order of the Crystal Rainbow to stand. We changed the ceremony a little to save on time by having members stand in place and invited one person to speak for each candidate. We inducted two new members to the Baronial Service order. Baroness Khalja Khorkoi spoke for Anjelika al Medinah (Anne Soeder), and Gustav von Bahmer (Rob Bahmer) spoke for Chingis Shanagatai Neriin (James Spiering). We took a moment to have Decimus speak of the four awards that we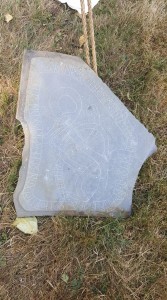 have come to describe as our Four Pillars of Three Mountains: The Crystal Rainbow for exceptional service to the Barony, The Order of the Mountain Sun for exceptional performance in Arts and/or Sciences within the Barony, The Order of Three Mountains given for exceptional service in many different areas over a long period of time (lovingly dubbed the 'Insanity Award'), and the Order of the Aegis Honoris which means Shield of Honor given in recognition of those who exceptional courtesy and honorable behavior. Upon completion of this short presentation the Order of the Aegis Honoris was invited to stand and Sir Ataias was asked to speak for Vivian Niculdoon who was inducted into the order. Lastly for the Baronial business, the Order of Three Mountains was asked to stand. While I am not a member of the order, I took my prerogative to speak for Sir Olin Ulfredson. We were unable to acquire an appropriate scroll for his induction so I commissioned a "voucher" to be made out of stone. He was so enamored with this stone that he declined to ever turn it in for a paper scroll, calling out on his return to his seat, "I went to Sport of Kings and all I got was this rock." All of these new Order members are deserving of their induction, and we thank all of them for their continued service.
At this point, we returned court back to Their Majesties, where King Christian stood up to speak but became very quiet. His Majesty spoke from the heart to how much our events mean to him, how what we do matters, and how life is fleeting. He spoke with true emotion of the love for the values our Society espouses and how some give everything they have to be an example not just in our game but in their entire life. His Majesty asked me to speak on a person whose name came up when His Grace, Sir Stykarr sat the Sable Lion Thrones. His Grace wished to honor this person while he was King but we were unable to make it happen, and so he asked his Majesty, King Christian to consider the request, who agreed. I began by saying that we as a Society claim many values that we hold dear, and wish to perpetuate; service, honor, chivalry, care for our fellow men and women. Ricky Best, known in the Society as Sojiro Motoki, joined the SCA in the 80's as a kid where he learned the foundations for service, honor and chivalry. He later joined the US Army where he fought in one war and two conflicts abroad. He was married and had four children. While he never returned to play in the society, it was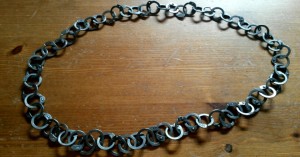 the tenets of the society that drove his life mundanely; to be honorable and chivalrous every day, to be of service to those near him, and to protect others in their time of need. It was the last tenet he was attempting to fulfill in his death when he was one of two killed in an attack on the Portland MAX train in May of 2017, and why we honor him. His Majesty announced that he had posthumously awarded Sojiro Motoki, mundanely Richard Best, the Iron Chain. All royals and nobility on the dais presented white carnations in his memory to his family who attended (including Appoline d'Avignon) and his Majesty placed the chain upon them. We thank their Majesties for their generosity and help in recognizing him.
After we all took a breath from this ceremony, Court resumed with more awards and business of the Kingdom. Baron Finn begged their Majesties' leave to be released from being their representative in all manners ceremonial in Dragon's Mist. They agreed to release him, but not before fashioning him a Baron of the Crown's Court. Next they called forth José Cabrera de Castilla, and Ana de la Sara inviting them to take upon themselves the responsibility and honor of becoming Dragon's Mist's new Baron and Baroness. After agreeing, they took their place in court and conducted oaths of fealty and service of their populace before returning court back to their Majesties.
More details will come about court from the Kingdom Court reporter, but this was the core of what happened.
Again, thank you to all who made it happen.
Yours In Service to the Dream
Sebastiaen
Baron Three Mountains