Baron Sebastiaen and Baroness Erika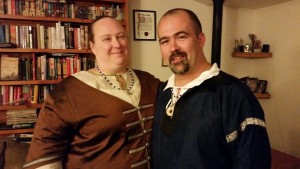 Greetings from Three Mountains,
To those just starting out in the SCA and to those who may be re-locating from another part of the Knowne World, we welcome you to our fine Barony. We have participated in this barony for nearly a decade as members. As Baron and Baroness, we hope that you will find your path to enjoying history as we have. We have been asked many times since being chosen what our goals are, and instantly our answer has always been thus: to help people find joy in what they do. From cooking to leather craft, camping, sewing, archery, heavy combat and so much more, the SCA truly offers something for everyone.
If you have any questions about where to start or how to get involved, please do not hesitate to ask.
Yours In Service To The Dream
Sebastiaen & Erika
Baron & Baroness Three Mountains
Their Excellencies contact info:
baron-baroness@baronyofthreemountains.org