THIS EVENT HAS BEEN CANCELLED.  TALKS ARE IN ORDER TO MOVE THE CHAMPIONSHIP ACTIVITIES TO STORMGODS.  STAY TUNED FOR FURTHER INFORMATION.
Unto the mighty Archers and Throwers of knife, ax and spear, the Baronies of Three Mountains, Stromgard and Dragons Mist are putting on a combined event in the spirit of friendship and cooperation, sponsored by Three Mountains, and inviting one and all to come and vie for one of these Baronial Championships: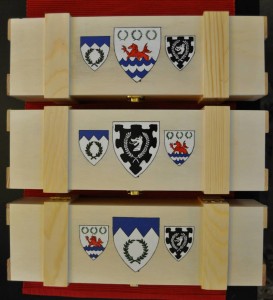 Archery Champion of Three Mountains
Thrown Weapons Champion of Three Mountains
StormHunter of Stromgard (combined Archery & Thrown Weapons Champion)
Archery Champion of Dragon's Mist
Thrown Weapons Champion of Dragon's Mist
Dates:
COMING SOON – June 23rd – 25th, 2017
Location:
TO BE DETERMINED.  EVENT CANCELLED AT TRACKERS EARTH

Trackers Earth Camp at Bull Run Education Center, 41515 S.E. Thomas Road, Sandy, OR 97055
Google Map It

Steward:
H.L. Dana Chathair Saibhin ("Spritzie")
(

mka

: Dayna M. Kirkpatrick)
consortiailluminae[AT]comcast.net
(206) 930-9889
Marshal In Charge:
Master Andrew Stiubhard (

mka

: Eric Malain) eric.malain[AT]gmail.com
Gate Times:
Opens Friday at 4pm. Site closes Sunday at 1pm. Must be offsite by 3pm
Fees:
Adult Event Registration: $20
Adult Member Discount Event Registration: $15
Youth 17 & Under: Free
Please make checks payable to "

Barony

of Three Mountains, SCA, Inc."
Site Notes:
NO PETS Allowed on site per the owners rules (ADA Service Dogs excepted).
Potable water is limited, plan accordingly.
Discretely wet site.
Please smoke only in designated areas and pick up after yourselves.
Event Notes:
This will be an extravaganza of flinging pointy things! Along with the 5 Championships, there should be open time on the archery and thrown weapons ranges; plus an opportunity for some hands-on archery & TW marshal training!  Spectators Galleries will be set up close to the action!   Here is are some of the other fun things that will be going on:

Silliness and frivolation on Friday night (Her Grace had a wicked gleam in her eye)
A processional of those competing & their inspirations, with banners flying, into opening Court!
Arts & Sciences Populace Choice Display/Contest, with bonus points given for items relevant to archery & thrown weapons, Family Activities for 4 hours on Saturday, a Bardic that night, sponsored by the local members of the O.G.G.S & past & present Archery/TW Champs of the Tri-B.
Merchants; including the now famous television Champion, Master Grendal!

We will need a volunteer for Water Bearing, some helpers at Gate and PLENTY of Archery & Throw Weapons Marshals.

Please check back for updates and more information as it becomes available.
http://baronyofthreemountains.org/calendar/local-events/2017-rivers-region-archery-thrown-weapons-championships/

Directions:
Find your best route to Sandy, OR on Hwy 26. Turn north onto Ten Eyck Road. Follow Ten Eyck Road approximately 3 miles.
NOTE: There are two hair-pin turns to stay on Ten Eyck Road. Turn left onto Thomas Road. Look for SCA sign at entry in approx. 0.5 miles on the right.